Blewett Falls Lake
Blewett Falls Lake is a 2560-acre lake in the south-central part of the state between Wadesboro, NC and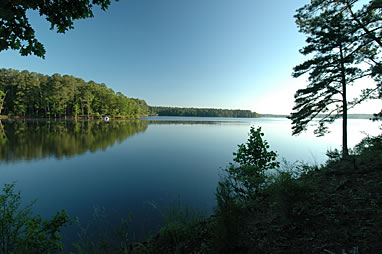 Rockingham, NC. The lake is the storage reservoir for the Blewett Falls Hydroelectric Dam and is located at approximately mile 195 on the Yadkin-Pee Dee River between Anson and Richmond counties in central North Carolina. The dam has a maximum height of about 50-feet above the river bed, and forms the Blewett Falls Lake.
The Blewett Falls development began operation in 1912 and is owned and operated by Progress Energy. The surface area of Blewett Falls Lake covers about 2560 acres at the normal full pool elevation of 178 feet above mean sea level. At full pool elevation, the lake contains approximately 34 linear miles of shoreline.
---
If you are looking for fishing, hunting, marine or camping gear, visit USAAngler.com.
Blewett Falls Lake and recreation area
Located between Rockingham, NC and Wadesboro, NC, Blewett Falls Lake is a great get-away from the crowds at other more populated recreation areas.
Anglers fishing in Blewett Falls Lake will find the lake well stocked with bass, crappie, bream, stripers and catfish. Different species are known to be more active at different times of the year. However, the lake is probably best known for the large catfish that are regularly caught there, including blue cats, channel and flathead catfish.
Cat fishing on the lake is a good trip for the entire family or for someone new to the sport of cat fishing. The action is usually fast, and you can expect to catch catfish in 5 – 30 pound range, during the day or night, year round.
Crappie fishing in the early spring is quite popular on Blewett Falls Lake, and the size and quantity of the catch is usually very rewarding.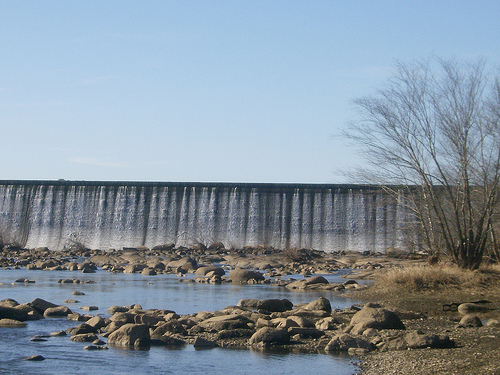 Two boat ramps are available to the boater and angler in Anson County, and both are free to the public. The major boat landing and ramp is located close to the dam on Boat Landing Road, which branches off Blewett Falls Road, just off Highway 74. The other boat landing is on Highway 109 north of Wadesboro, just beside the Highway 109 Bridge that crosses the Pee Dee River on the north end of Blewett Falls Lake.
Blewett Falls Dam is used for hydroelectric power, recreation and drinking water purposes. Construction was completed in 1912. It has a normal surface area of 4 square miles. It is owned by Carolina Power And Light Co.
Blewett Falls is concrete, a gravity dam, of earthen construction. The core is homogeneous, concrete. The foundation is rock. Its height is 77 feet with a length of 4109 feet. Maximum discharge is 490000 cubic feet per second. Normal storage is 97000 acre feet. It drains an area of 6839 square miles.
Blewett Falls home sites
This is a unique opportunity to purchase land at Blewett Falls Lake. To live on the water is a universal desire. Blewett Falls Lake, North Carolina offers unforgettable properties. From the moment you set your eyes on the land, you will know you have found something very special, the serenity of true lake living.
Blewett falls on FaceBook
See the Blewett Falls Lake Facebook Fan page for fishing and hunting reports and recreational updates. Become a Fan and get the latest updates from Blewett Falls Lake.